Antidiabetic drugs in Alzheimer's disease - mechanisms of action and future perspectives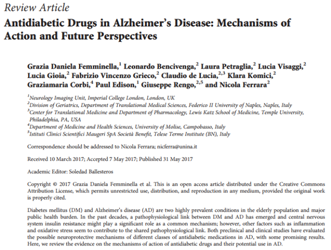 Diabetes and Alzheimer's disease are both very common conditions in the UK's elderly. In the last 20 years, a link has been suggested between these diseases. Insulin resistance in the central nervous system (brain, spinal cord and cerebrospinal fluid) may play a common role in both diseases. There have been preclinical studies that suggest that some antidiabetic drugs may have protective properties effects in the brain.
This article discusses the different mechanism of antidiabetic medications and their potential use in treating Alzheimer's disease.